24
Aug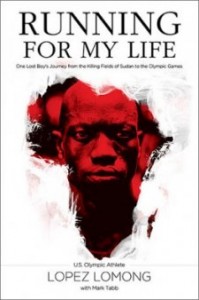 Running for my life was a wonderful story about a child stolen from his family in Sudan at the age of six only to find him running in the 2008 Olympic Games by God's providence.  Lopez's faith in God shines through every page of the book.  He sees God's hand on his everyday life, something that most Christians take for granted.  It was captivating, waiting to see where God was going to take this young man next.
Lopez Lomong, the young man the story centers on, wrote Running for my life with the help of Mark Tabb.  Between the two, they did an amazing job.  I found myself rooting for Lopez to succeed in every aspect of his life.  I even had to go check to see how he did in the 2012 Olympics.
The book is full of situations that may not be suitable for younger children, like when the solders yanked little Lopez out of his mothers arms in the first chapter or when Lopez tells of the poor treatment of his sister in the epilogue.  I would suggest, if you want a mature child to read it, that a parent reads the book with the child.  And you might need a box of tissues (I know I did!)
Disclosure of Material Connection: I received this book free from the publisher through the BookSneeze.com book review bloggers program. I was not required to write a positive review. The opinions I have expressed are my own.