03
Oct
I was so pleased to receive a complimentary copy of Night Night Blessings by Amy Parker from BookSneeze.  Our family loves to have books around the house to remind our children of God's love and/or His blessings, and this book fits perfectly.  Night Night Blessings is a padded board book that reminds little ones to see God's blessings in everything around them.  From thanking God for a new day to Mommy's kisses and Daddy's prayers, children ages 2-5 are pulled into this book with it's cute little rhymes, colorful pages and artful way the words flow over the pages.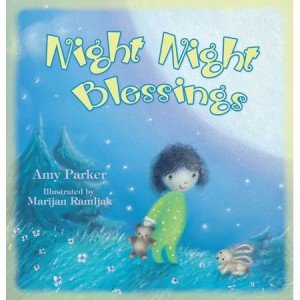 Best selling author, Amy Parker did an adorable job showing multiple ways God blesses us everyday.  She takes the reader through a day of blessings – starting at waking up to the sun shining through the window and going all the way to bed that night – making a great bedtime story.
The illustrator, Marijan Ramljak, did a beautiful job, with almost a child-like way about it.  The colorful artwork looks to be oil paintings that capture your attention while still stimulating your imagination.  The publisher calls it snuggly art, and it truly is.  We snuggled on the couch and read this book 3 times as soon as we received it.
Disclosure of Material Connection: I received this book free from the publisher through the BookSneeze®.com book review bloggers program. I was not required to write a positive review. The opinions I have expressed are my own.