09
Sep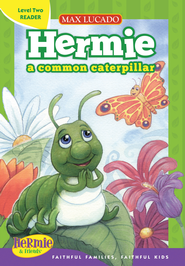 I was elated when I was offered the chance to review the ebook Hermie, a Common Caterpillar by best-selling author Max Lucado.  My children love to watch the Hermie DVDs, but this is the first of the books we have been able to read.   I decided to read it aloud, but as a level two reader, it is a great book for a Reader in Training, roughly ages 5-8.
The story helps to remind children that they are special,  that God has a plan for their life and that they can always talk to Him.  It lays out these truths in a colorful, fun story of two caterpillar buddies who are sad because they see themselves as ordinary and everyone else as extraordinary.  The author did a fantastic job of reiterating how even though Hermie and Wormie may seem ordinary to the onlooker, God sees them as special.
The illustrator, Daniel Howarth, did a stupendous job – focused art that looks like what I can only describe as beautifully done watercolors.   My only very minor complaint was that some of the artwork was not on the same page that it was designed for – sometimes being a page after.
Overall, this piece of literature was a nice little read and sent my children into a flurry of coloring pictures of butterflies and discussions of what God might have planned for them.
Disclosure of Material Connection: I received this book free from the publisher through the BookSneeze®.com <http://BookSneeze®.com> book review bloggers program. I was not required to write a positive review. The opinions I have expressed are my own.