12
Oct
For me, when the words hero and villain are used together they conjure an image of something epic.  Maybe a battle with swords flying and people doing amazing twist and turns.  I think it is the addition of the word villain.  A hero can be an ordinary man, but a villain MUST be evil.  Reguardless, when I saw a book called Heroes and Villains of the Bible on the list of books I could review, I knew I wanted it.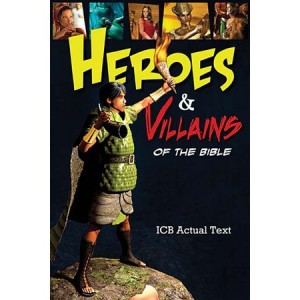 Hero and Villains of the Bible is walk through the bible with an emphasis on the different choices that make someone a hero or someone else a villain.   It was not exactly the book I expected and yet, I enjoyed it.  It takes 25 Old Testament people and 25 New Testament people and, using bible text, show the choices they made that forced them on God's team, the Heroes, or Satin's team, the Villains.  My only complaint is that Tama Fortner chose to compile the text from ICB, International Children's Bible.
The book uses Eikon Bible Art which is, as the publisher summarizes, amazing four-color, full-page digital images that bring to life these heroes and villains.
Over all, I liked the book, but with the bible text being from ICB, I am not sure I can recommend it.
Disclosure of Material Connection: I received this book free from the publisher through the BookSneeze®.com book review bloggers program. I was not required to write a positive review. The opinions I have expressed are my own.