23
May
We went dewberry picking this week with friends and came home with 12 cups of yummy, sweet berries.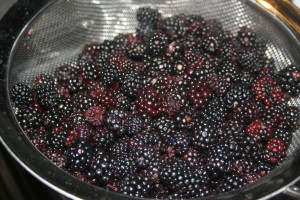 Dewberry Pie
Pie Crust:
2 cups flour (I use something like 3/5 ground soft white and 2/5 all purpose)
1 teaspoon salt
1 teaspoon sugar
3/4 cup butter
1/4 cup coconut oil
2 tablespoons vanilla
approximately 5 tablespoons ice water
OR use two store bought crusts.  I won't tell. ;-)
Filling:
4 cups dewberries
1/2 cup flour
1/2 cup sugar
juice of 1 lemon (optional)
Optional Sugar Wash:
So to make my pie crust, combine flour, salt and sugar in your food processor. pulse to mix. Next add butter and pulse about 5 to 6 times, until texture looks mealy.  Then add coconut oil and pulse another 3 to 4 times.  Now, add the vanilla and pulse 2 to 3 times more.  Finally you will add ice water 1 Tbsp at a time, pulsing until mixture just begins to clump together. Use the pinch test.  Pinch some of the crumbly dough and if it holds together, it's ready. If the dough doesn't hold together, add a little more water and pulse again, but know that too much water will make the crust tough.
Take the dough and place on a flat surface.  I kneed the dough for a moment to make a flakier crust, but you can skip that step if you would rather.  Form two disks about the same size.  If you are as persnickety as I am, then pull the scale out.   Wrap disks in parchment paper (or plastic wrap) and put in the refrigerator for at least 1 hour.
When your ready, let disks sit at room temperature for 5 minutes or so.  Roll out the first disk to about a 12 inch circle, about 1/8 inch thick.  Using the rolling pin carefully place one circle in pie pan.  Add filling (directions for combining filling below.)  I like to roll out the second crust and cut into it strips for a basket weave top, but you can cover however you want, as long at there are holes for steam to escape.
To make the FILLING toss the berries, flour, sugar and lemon juice.  That's it.  So complicated… :)
Brush the top with milk and sprinkle with sugar.  You can skip this step if you want, but I love the taste and look it gives.
To keep the edges from burning, wrap with tin foil. Bake at 425°F in a preheated oven for 15 minutes.  Remove the foil, drop the temperature to 375°F and bake for another 20 minutes.
Let the pie cool at room temperature for at least 15 minutes before enjoying.