20
Oct
It is so exciting to realize God is blessing us with another little one to train up and care for.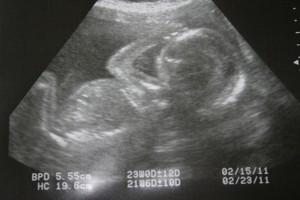 We decided to use the trip to the midwife as a field trip day.  The tech was nice enough to explain some of what the children saw, although I think Benjamin was more interested in finding out the sex of the baby!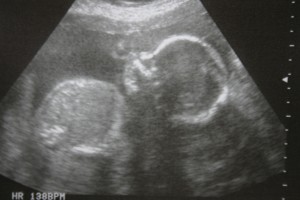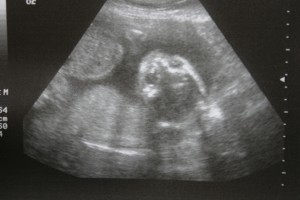 After leaving the midwife we went to the mall to celebrate our little one.  (We also used this time to multitask and get some work done on the car.)   Tony and I allowed everyone to pick anything they wanted to eat from the food court at the mall.  With much debating, Alexander and Carolyn finally chose Chick-fil-a and Benjamin chose pizza.
When we finished eating we decided to take a train ride around the mall.  The children had a blast and waved to everyone we passed.  I wish I had remember to bring my camera!
Then we wanted to wander the mall while we waited for our car.  We went to Build-A-Bear to look around (as none of us had ever been in one) and decided to let the children each build a toy.  We also built one for our Darling D (we haven't decided on a name, so if anyone has a suggestion, you are welcome to leave a comment.)  Her first toy is a snow owl.  Alexander built a camo bear with a soccer uniform.  Benjamin built a velvet pup and gave him a Star Wars uniform.  Both the boys gave their pals a Star Wars sound.  Carolyn built a pink princess bear.  She gave her bear a heart beat (we also gave one to D's owl.)  I was very impressed with the Build-a-bear staff.  I also love that if anything happens to the pals we can bring it back to any Build-a-bear Workshop, and they will fix it.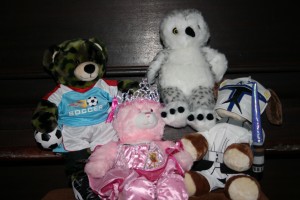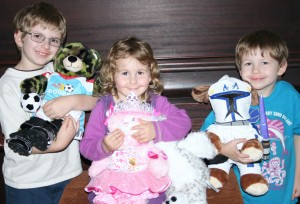 Everyone insisted on carrying their pals to the car.  When we got to the car, Carolyn promptly fell asleep.  All in all, we had a GREAT day.